24th February 2021
Evening all - from a very optimistic secretary!
The way I read it - and correct me if I'm wrong - the latest government announcement allows pubs to open for outdoor hospitality from 12th April and then, if all goes well, from 17th May indoor hospitality will be permitted (with the rule of six or two households to apply) while these restrictions will be lifted and up to 30 persons may meet outdoors. On that basis, we should be able to play aunt sally from thereon.
Understandably, another two or three weeks will then be required for practice and for teams to reorganise themselves - don't panic, we'll allow for that!
We'll wait and see how everything progresses before deciding upon how long a season we may be able to squeeze in, and its format. Before all of that, of course, we will call and hold our Annual General Meeting - more of that in the next month or so.
What I would like to know in the meantime is your views, along with who will (or will not) return to playing, and, likewise, any pub or club who will not be participating.
Phil Allen
******************************************************
23rd February 2010
Many of you, I'm sure. will have seen over the last weekend the Facebook post by Charlton United Football Club about the very sad and sudden passing of their reserve team manager, true gent and all round nice guy, 'The Colonel' Jim Crook. Not only was he a true legend of Charlton United FC, but he was also a regular and popular member of the Nut Tree, Murcott's aunt sally team. On behalf of the Bicester and District Aunt Sally League, I send our thoughts and condolences to the family and close friends at this awful time.
***********************************************************
20th January 2021
I hope you and your families are all safe and well, and managing to cope with the current COVID and lockdown situation.
I just want to bring you up to date with where we are with regards to the Bicester Aunt Sally league and our initial thoughts moving forward towards the summer and hopefully some easing of the restrictions.
2021 SEASON NEWS
Thursday 28th January was planned to have been our 2021 AGM.
However, with the current situation, this has been cancelled until further notice. We are considering the possibility of holding a Skype or Zoom meeting at some point, to get your thoughts on the coming season. In all reality, it does not look like the season will be able to start as usual in April. We cannot even start planning yet until we have more positive news about the virus and the easing of the lockdown situation. At best, I think we will be looking at a one round of league fixtures - filled in, if time allows, with various competitions - possibly starting at the beginning of July; however, we thought along the same lines last year and it didn't happen! We are certainly hoping that we will get the opportunity to get out playing again and, if a league format is not possible due to time constraints, then we will look at the possibility of some round robin type competitions on a league by league basis - all dependent on interest and your feedback.
Unfortunately, it's very likely that we will lose some teams, due to pubs or clubs closing and/or the possibility of losing players who don't want to participate until things return back to full normality. I've not received any notifications during the 10 month pandemic period, but we may have sadly lost players due to Covid - and, if that is the case, our condolences and thoughts go out to those families.
Also, to try and ensure we can get in touch with a wider audience, we are thinking of setting up an "Official Bicester Aunt Sally League Page", so that all players who wish can join it and keep tabs on any plans or proposals - as well as continuing to keep the main contacts from each side up to date as much as possible via email and on the website. Your thoughts on the Facebook page would be appreciated also.
Phil Allen
*******************************************************************
23rd September 2020
Morning all, it just wasn't meant to be, was it!? Despite a real concerted effort to get the indoor league up and running - especially by Keith and Martin at the Ex Services Club - the virus has defeated us. The latest government announcement prohibits us from playing indoor aunt sally - and, the way I read it, it will be for at least six months.
The summer league out the window - and now this one!
Many thanks to Keith and Martin for all the hard work they've put into this but I'm as disappointed as you all are that we can't enjoy what we like doing most!
I'll be in touch again as soon as there is any glimmer of hope; but, in the meantime, I wish you a Merry Christmas and a Happy New Year.
Take care everyone and stay safe.
Phil Allen
****************************************************************
20 September 2020
Evening all,
I'm a bit at "sixes and sevens" at the moment, but, as we want to start this coming week, I must get something to you, urgently.
The minutes of the AGM held on Tuesday 8th September are available via the AGM button on the left; however, with the new government rules and guidelines announced the following morning, some of what we discussed at the meeting has had to be changed. The main thing is, even under those new rules, we feel we fall under the category of "organised sport" and, as long as we do not exceed the stipulated 30 maximum in the hall at any one time and follow the "Code of Practice", we can go ahead and enjoy our aunt sally.
The 'Code of Practice' can be found via the RULES button on the left.
Please read it.
So, because of the difference in the number of teams on each evening, let me go through them separately.
TUESDAY
The season will start this coming Tuesday, the 22nd September.
The same eight teams who played last season will be taking part again. The Barley Mow are struggling for players and are on the lookout for some others. Please let me know of anyone who wants to play but doesn't have a team.
Because of the "30 person maximum" in the hall, the evening will be split into two sessions - ie have four teams in for the first half of the evening and then, following that, those teams will leave and the other four will come in and play. Because that changeover period will take some time (about 10-15 minutes) the Tuesday evening games will start at 7.30.
The fixtures list is attached but I do need to go through it to recheck everything - but, I'm pretty sure it's correct (for the first few weeks at least!). The black print is the first round, the blue is second time round and, of course, red is for the third time. If we are able to continue after Christmas, we will introduce other competitions.
WEDNESDAY
At the AGM we were already aware that the Shakespeare and the White Horse were unable to get a sufficient number of players to take part, leaving us (at that stage) with six teams; since the government's announcement, the Ashton Club have also said they do not want to play "at the moment" - so, down to five. Nevertheless, I've still managed to compile a "workable" fixtures list; it's attached.
The season will start this coming Wednesday, 23rd September.
It will start, as it has before, at 7.45.
Two teams each week (alternating, obviously) will play three games and the others will play two. On the fixtures list, those in red will play three times. That will, of course, make it rather difficult to understand the weekly league tables!
With five teams of five, we can all be in the hall for the whole of the evening; so, with four playing at any one time, the "odd one out" will not necessarily have to leave.
With not so many teams, it does mean we play each other eight times before Christmas.
There probably are other bits and pieces which I've forgotten but, because we start next week, I've had to get something out to you. No doubt, I'll be sending some more over the weekend!
Any questions? Give me a shout.
Phil Allen
*****************************************************
1st September 2020
Morning everyone, time for an update. Whilst I'm still waiting for a couple of replies, this is how it is at the moment.
TUESDAY LEAGUE
All have replied and it appears that the Bull Inn C will not be partaking. Sophie Thomson and Nick Whitburn still want to play and will be available for "transfer". The Barley Mow will continue but will be looking for a player or two.
I've spoken with Ady Carvell (Highfield) and he's trying to get a team together to take the Bull C slot. Even if we are a team short, I have managed to compile a fixture list for seven teams.
WEDNESDAY LEAGUE
Again, most have replied and confirmed that they'll continue. The only uncertainty I have at the moment is whether or not the White Horse will be playing. The Misfits will be without Brian Gough and Eddie Gordon who've decided not to play. Otherwise, we're ready to go.
The joint Tuesday and Wednesday Leagues' AGM will be held at the Ex Services on Tuesday 8th September, starting at 8 o'clock - a little earlier in the month than in previous years 'cos we're so eager to get back to playing aunt sally again. We can discuss then which format we're going to adopt - ie play as we have done previously or, alternatively, to have just four teams in for the first half of the evening and then they leave just before 9 o'clock and the other four take over.
Phil Allen
***********************************************
With a little more relaxation in the coronavirus restrictions, and some teams arranging to play "real aunt sally" friendlies, the decision's been made to cancel the Virtual Aunt Sally. It served its purpose during the total lockdown by allowing a number of us to keep in touch with each other, have a chin wag and spread a little banter for 45 minutes or so; but I now feel, as we have the opportunity to concentrate on the "real stuff", we should do just that and forget our weekly Skype calls.
At this stage, I'd like to thank our reporter for some terrific, witty write ups. Just what the doctor ordered in such a miserable few months. Thank you young man!
19th August 2020
Morning all,
I got very little response to my previous email sent out on 15th July and, as someone pointed out to me (and I hope it's not true), little or no response indicates little or lack of interest in playing this winter.
So, let me repeat what I sent out before hoping that, this time, I can get something back from you!
"With the summer season a non-entity, it's now time to concentrate on the indoor aunt sally/winter leagues.
Bearing in mind the continuing threat of coronavirus, there are, of course, a number of guidelines which we will need to adhere to. Firstly though, I need to get your feelings and, from that, I can then decide whether it's worth me pursuing it.
In no particular order:
1. We could all still have two games an evening but, to avoid a large number of people in the same room at the same time, we would need to do it in two sessions - ie have four teams in for the 7.45 matches (eg A v B and C v D) and then the same four teams would also play at 8.20 (A v C and B v D). Following that, the other four teams would do likewise at 8.55 and 9.30. We are well aware of many pros and cons for this but, what are your feelings?
2. If number 1 above was adopted, those on "the late shift" could socialise and drink in the bar beforehand and then, all change for the second half of the evening. Enter the hall through one door and exit through the other.
3. I've already prepared a provisional fixtures list and it works out that each team would be on the first and second sessions an equal number of times.
4. With the current situation, the hall is not being used and, for the foreseeable future, no music events will be held; therefore, the aunt sally equipment could be left up. This avoids unnecessary handling and assembling of the parts. This situation could change as social distancing measures are eased. Should that be the case, Ex Services staff would assemble and dismantle as required.
5. Practice doll to be used for matches and only one person from the side not throwing (ie the caller) to be in the area where the iron is. This avoids handling of the doll by anyone from either side. The player who has thrown would collect their own sticks, again to avoid unnecessary handling.
6. Based on the evening being split into four teams in two sessions, any unrequired tables could be removed or placed on the stage (by Ex Services staff) to increase space.
7. Bar service to mirror the main bar area. Social distancing measures in place, with order and collection points (not table service).
8. Hand sanitiser to be made freely available in the hall as it is elsewhere in the club.
9. Those players who are non-members will be able to use the main bar and seating area whilst social distancing measures are in place, so they can arrive early or stay late if they so choose.
10. I, "the committee", can't assume that everyone will be keen to play under the current conditions; so, therefore, would captains please canvass your players to make sure they are all happy with the steps mentioned to ensure safety, including the four teams session split and to gauge their level of interest. And then, please let me know the outcome.
11. If there aren't sufficient full teams, various alternatives, to keep the aunt sally going, could be looked at - such as "invitation" nights, with a maximum number of 20 players, with the same conditions as above – practice doll, one caller etc.
12. With the Summer League written off and the Winter Leagues not due to start until the second week of October, If there is sufficient interest, an earlier start date could be arranged (say, mid-September), with additional league games included - or a "handicap" league added - at the end of the season.
13. Gloves will be available for callers, scoreboard markers and whoever else may need them.
14. It's been estimated that we could get about 50 seated in the hall - but, with people moving around, we'll want to reduce that number so everyone feels safe and comfortable."
Please let me know what you think.
Phil Allen
********************************************************************
15th March 2020 - INDOOR
Morning all. After two cracking finals nights, I'm now back down to earth!
Sadly, both the Tuesday and Wednesday leagues have now finished for this year. In their own ways, they've both been brilliant; I've really enjoyed them - and I hope we can repeat it all again later this year when we start it all over again!
The results are as follows.
TUESDAY LEAGUE
League champions - Red Cow
Runners up - Bull Inn A
Knockout Cup champions - Red Cow
Runners up - Butchers Arms
Knockout Cup plate winners - Mr&Mrs Fits
Runners up - Barley Mow
2.5 Pairs Knockout Cup winners - Red Cow
Runners up - Barley Mow
2.5 Pairs Knockout Cup plate winners - Mr&Mrs Fits
Runners up - Bull Inn C
Triples winners - James Kirkland, Dave Leopold, Steve Webb
Runners up - Paul Sawyer, Wayne Walker, Clive Sewart
Pairs winners - Ian Cantwell and Roger Herbert
Runners up - Wayne Walker and Clare Walker
Singles winner - Karl Budd
Runner up - Paul Sawyer
Sixers - Karl Budd, Nigel King, Dave Gardner, Roger Herbert, Brian Loverock
Top Doll Scorer - Karl Budd
WEDNESDAY LEAGUE
DRD Roofing League champions - Misfits
Runners up - Unwanted
Knockout Cup winners - Misfits
Runners up - Unwanted
Knockout Plate winners - Ex Services
Runners up - Shakespeare
Two and a half pairs knockout cup winners - Misfits
Runners up - Bell
Two and a half pairs plate winners - Ashton Club
Runners up - White Horse
Triples winners - Tony Nichols, Erik Poslusny, Andy Grose
Runners up - Paul Sawyer, Tyler Andrews, Baz Bazile
Bob Hook pairs winners - Tony Nichols and Erik Poslusny
Runners up - Steve Golder and Phil Allen
Singles winner - Doug Revitt
Runner up - Paul Sawyer
Sixers - Doug Revitt, Bobby Allen, John Hudson, Eddie Jones, Karl Budd, John Weller, Kevin Powney, Pete Dempsey, Jeremy Launchbury, Terry Hawkins, Erik Poslusny, Baz Bazile, Ray Rowe, Pete Litten, Bill Mellis (and Tony Nichols got one on finals night)
Top Doll Scorer - Doug Revitt
FOR YOUR DIARY
Wednesday 18th March - Charity Night - just turn up and have a fun night.
Wednesday 25th March - Interleague match, away against the Yarnton League
Wednesday 22nd April - Summer league starts (fixtures will be with you soon).
I have been asked if we can run an indoor Tuesday night summer league at the Ex Services. I don't mind organising it if we get sufficient players. If anyone's interested - ie any individual or complete teams of five - get in touch with Phil Allen as soon as possible.
Phil Allen
*************************************************************
AUNT SALLY WORLD CHAMPION 2018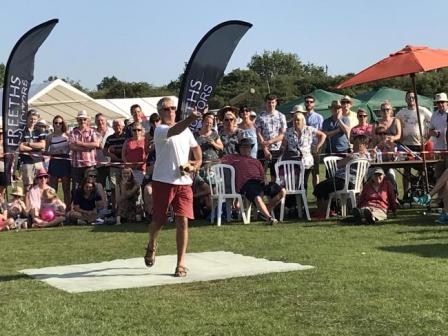 Kevin Powney.....Click the News button to read more
*****************************************

Sponsored by

DESTINATION MAZDA


AYLESBURY



*************************************************************************************************************************