22nd November 2021
MORNING ALL,
Sadly, a bout of positive COVID tests in our area decimated many of our teams this week. Nevertheless, with a little jiggery-pokery, they were still enjoyable evenings.
On Tuesday, the Red Cow were down to three regulars but, with Mel Cantwell joining in, they managed ten points - six against a three man Barley Mow and four against the Bull Inn B. Ian Cantwell (11 dolls) and John Clutterbuck (10) shone in the first match, with Ian getting another 10 in their second. The top of the table clash between Bull Inn A and Mr&Mrs Fits was, as expected, a close call with Mr&Mrs Fits eventually collecting all six points. Kevin Powney, standing in for the unavailable Karl Budd, looked as though he's played before (!) with ten dolls but the real "star of the show" was Steve Golder with 12. He followed that in their second match with another nine - a decent night out Steve!
On Wednesday, despite a couple of decent throws from Terry Hawkins (13 and 10 - including a six in his first match), and 11 from Tracey Denton in their first match, the Ex Services still only managed to get two points on the night.
This coming week it'll be the Pairs Competitions. Whilst the pairs have already been selected there will be some disruption because of the recent positive Covid tests. Adjustments - and the draws - will be made on the night. Just turn up on the night - before 7.30.
Sixer - Wednesday - Terry Hawkins
Phil Allen
**********************************************************
14th November 2021
Morning all,
The Mr&Mrs Fits, with a maximum 12 points (and 81 dolls in the process), gained a point over their nearest rivals, the Bull Inn A, on Tuesday evening. In their first match against the Barley Mow, they hit a commendable 44 dolls - Karl Budd and Billy Atwell with 10 apiece, with the opposition's young lead-off man, Harry Whaites, replying with seven. No problems in their second match either - all six points against the Ex Services with Billy Atwell excelling himself with another 10. Meanwhile the Bull Inn A easily overcame the Bell in their first match with all six points. Not quite as easy when they came up against the four-man Red Cow, as they dropped a point with a draw in the second leg. The third leg was rather close too but Nick Cherry, now playing for the Bull against his "old team", managed to hit the winner with his last stick.
We can certainly see some improvement within the Bell and Another teams, who, as I've said before, are there week in, week out. Matt Toomey was the 'star' last week with 13 dolls (6 and 7). Well done ladies and gents, keep it up.
Potentially a big game to commence proceedings on Wednesday evening with the Misfits up against the Crown. OK, the Misfits ran away with the first leg 16-7 but the other two were rather touch and go - just one doll in each case (12-11 and 14-13 (eleven dolls from Dave Reast) and all six points to the Misfits). With 14 dolls from Brian Gough (including a six in the second leg) and 11 for Dougie Revitt. their second match (against The Cherries) was a much easier one - all six points and 50 dolls. With Pete Dempsey in decent form these days, hitting 22 dolls on the night (12 and 10), the Unwanted also gained maximum points against the Ex Services and the Shakespeare. Tony Nichols was another to hit a six, in his 11 dolls against the Ashton Club. Aimee Sheehan had a terrific evening with 18 dolls - eleven of those in the Bell's first match, against The Cherries. Well done Aimee.

Sixers - Wednesday - Brian Gough and Tony Nichols.
Phil Allen
*****************************************************
10th November 2021
Morning all,
Rather a shame that the Red Cow, due to illnesses and holidays, couldn't get a side together on Tuesday night. Although we were able to "fill in", they lost all 12 points and dropped four places in the table. Mr&Mrs Fits took full advantage and, with a maximum 12 points (6 of them, ironically, against the Red Cow), they now top the table. Thanks once again to the seven players from the Bell and Another, who, without needing to be asked, just went ahead and made up both teams - OK, the two teams were playing at different times. Thank you all once again.
On Wednesday, with Dougie Revitt back from his hols and hitting 23, the Misfits extended their lead at the top of the table with a 6-0 win over the Shakespeare and a 5-1 over second placed team, the Unwanted. Bobby Allen also hit 23 for the Misfits. With John Cottingham of the Ashton Club sick and not playing at the moment, Rick Gumbert has been representing both the Ashton and the Ex Services. Showing a bit more loyalty to the Ashton I do believe! He hit 19 for them but only 18 for the Ex's! Throwing well though Rick, keep it up.
**********************************************************************
1st November 2021
Afternoon all,
Sorry, a little later than usual - partying too hard and quite late last night/this morning, so had myself a well needed lie in.
One round of league games and then the first round of the Knockout Cup both Tuesday and Wednesday nights.
Billy Atwell with 13 dolls and Karl Budd with 10 ensured the Mr&Mrs Fits maintained their second spot in the table - and just one point behind table toppers, the Red Cow - with a 4-2 win over close rivals Bull Inn B. Dave Gardner (Bull Inn A) and Ian Cantwell (Red Cow) also hit ten apiece. In the Knockout Cup, Bull Inn B beat the Barley Mow 2-0, as did the Red Cow against the Ex Services. After drawing a leg and winning one leg each, Another progressed to the semi finals with a 3-sticker win against the Bell. Bull Inn A also got through beating Mr&Mrs Fits 2-1.
On Wednesday, despite a six from Tracey Denton (Ex Services) in her 11 dolls, the Shakespeare (with Martin Wanless also hitting a six in his 11, and Tony Nichols with 13), beat the Ex Services 6-0. The Misfits (with the rarity of none of their players hitting double figures!) dropped a leg against the Bell, as did the Unwanted against the Ashton Club - Kevin Powney hitting 13 for the Unwanted. Jeremy Launchbury starred for the Crown as they beat The Cherries (used to be 'Another' but now renamed) 5-1. In the Cup, the Unwanted and the Shakespeare went through with 2-0 wins over the Ex Services and the Ashton Club, and the Crown also progressed beating The Cherries 2-1. The Bell and the Misfits drew a leg and won one apiece so played a 3-sticker, which the Misfits won.
The Knockout Cup semis will be played on the 7th and 8th December. The draws will be made on the night.
Sixers - Wednesday - Tracey Denton and Martin Wanless.
Phil Allen
****************************************************************
25th October 2021
Morning all,
A very well done and a massive thank you to the seven Bell players who, in the Tuesday League, between them, made up the Another and Bell teams (some of them playing four matches - in fact, Kayleigh and Janine also represented the Barley Mow team who were a couple of players short). Well done and thanks once again - good to see you all enjoying it too!
Karl Budd hit a six with his first throw of the evening - ironically against the Another team. With James Kirkland hitting 12 (a total of 21 on the night), Terry Hawkins 11 and Janine Riddell 6, the shock of the evening was the Barley Mow's 5-1 win over the top of the table Red Cow - who, despite that defeat, remain top.
The Misfits continue to "run the roost" in the Wednesday League, winning both their matches 6-0 (against the Ex Services and the Ashton Club). Brian Gough shone with 23 (11 and 12) with Dougie Revitt close on his heels with 22 (10 and 12, including a six). Others to hit 22 were Pete Dempsey (11 and 11) and Kevin Powney (12 and 10) who helped the Unwanted pick up two 4-2 victories against the Another team and the Crown. Jeremy Launchbury, with 21 (11 and 10) wasn't too far behind either.
The Another team has been very much a bit of a 'mix and match' for the first couple of weeks and I thank those who have helped make up the required five players. I do believe that, from next week, we should have a team of five regulars.
Sixers - Tuesday - Karl Budd
- Wednesday - Doug Revitt
Phil Allen
****************************************************************
18th October 2021
Morning all,
The Bicester Tuesday and Wednesday winter indoor aunt sally league got under way again this last week - and, how great it was to see everyone, fighting fit and ready to battle it out once again. The results and tables for both evening's are attached.
Many thanks to The Bell for providing enough players to fill two teams in the Tuesday League, filling the gaps left by the withdrawals of the Butchers Arms and the Bull Inn C. That won't always be the case though; so, if there are other players out there who would like to join us for a Tuesday evening's aunt sally, just turn up on the night and I'm sure we'll be able to fit you in.
In the Wednesday night league, Dougie Revitt's back to the form he finished off with a couple of season's ago - hitting 25 dolls in his two matches, including a six. Close on his heels with 24 was Pete Dempsey, getting back to some sort of decent form.
Sixer - Doug Revitt
Phil Allen
******************************************************
11th October 2021
Morning all,
The final games of the summer league season have been played and this is your final email for a couple of months. Despite the huge obstacles in our way, from the initial impact of COVID and the social distancing rules, to the England football team reaching a European Championship semi-final for the first time in 25 years forcing us to postpone the first week, we managed to play whilst other leagues gave up. Changing our match format and point scoring seemed to help many teams and their players, who adapted to, and enjoyed the new system. Although, as with anything new, some were not so keen, but continued to play under these new rules despite their concerns and reservations. Overall, it is down to you guys that we managed to succeed in completing this year's summer league. A great achievement all round, so thank you for your support in ensuring we all got to play once again, and we have kept the interest in Aunt Sally alive and well.
The revised league formats meant some sides were playing against much stronger teams than they would have normally - but the feedback I have received seems to show they have all enjoyed being out and just playing again. This goes to show that the Bicester League isn't just about the competitive side of the game, but about ensuring we encourage and support everyone and ensure they enjoy their evenings playing Aunt Sally. It has been great catching up with old friends and faces we haven't seen for a long time due to the restrictions and, hopefully, as things continue to return to some sort of normality, maybe more players will return to the fold for the winter league and next year's summer league.
So, once again, a big thank you to all you – pubs and clubs, landlords and managers, players, and supporters – who made this very difficult, and different, season a success. Without your support it wouldn't have been possible.
As for this week's games, congratulations to Pip Goulding of Tiddington Cricket Club, who equalled this season's highest evening's individual score with 22 (and no six!) and also to his team mate Graham Bristow with 20. Congratulations to their team as a whole for a 25 in the third leg, and totalling 90 dolls on the night. Well done also to Billy Craig (Bell A) with a six in the final leg (and a total of 16 dolls) to help his side to a whitewash over the Blackbird. Similar plaudits to Keith Vickers (the Shakespeare) who rolled back the years to hit 17 on the way to his team's 8-2 victory over the Bull Inn A. With Dougie Revitt hitting 17 and Pete Dempsey 16, the White Lion made light work of their 10-0 win over Charlton United FC A.
In Division Two, the Barley Mow shared the points (5-5) at home to the Crown Twyford. Tom Hanson hit 13 for the visitors. Jason Harris's 15 for the Highfield SC, resulted in a clean sweep at home to the Bell B.
In Division Three, the top of the table clash resulted in Brill S&SC B eventually got the better of the Pheasant, winning 6-4 - with two drawn legs along the way. The table will show the Pheasant top with 94 points and the Club second with 90. But, with the Club's home game against Bull Inn B called off last week because the visitors couldn't raise a side, to all intents and purposes, I believe Brill S&SC B should be deemed Division Three 'Champions' (that should stir up a hornet's nest!).
To finish the season on a high, it's not Dave Fry this week! We had another roving reporter out and about and he's come up with this
"We had a great night for the final game of the season at Tiddington CC, and fortunately the weather was kind to us too.
What a cracking set up they have there, even if it is a little difficult to find in the dark, despite following a Sat Nav (something which one of our team should have done on the way home too - but more of that later).
There was some excellent throwing and high scoring by the Tiddington boys, Pip Goulding matching the highest score this season with 22 dolls, Graham Bristow with 20, Dave Curruthers with 16 and Pete Shepherd with 15 dolls, plus they hit the highest leg score for the season with a massive 25. We were happy to come away with 3 drawn legs, one of which was the beer leg fortunately !!
Tiddington laid on some great food afterwards too, so our evening didn't end straight after the match and we had a good chat with their lads and all agreed this season has been a great success under the circumstances and both sides are looking forward to the summer league next year. It's a shame they can't join the Wednesday night winter league, 'cos they're already playing in another league.
So after a great night of Aunt Sally and socialising with Tiddington we set off home, or at least 2 of our 3 cars did anyway. As we approached the junction for the M40, the lead car driven by Dave Puddle and with co-pilot Kev Powney in the passenger seat, decided they would go for a tour of Buckinghamshire and took the Southbound exit. Much to the massive amusement of the car behind them, driven by Billy Atwell, with Steve Payne, Pete Stammers and myself enjoying the additional entertainment of watching them disappear into the night, heading for the earliest exit at Chinnor/Watlington, probably some 10 miles in the wrong direction (so a 20 mile detour home). If Carlsberg did Aunt Sally after match entertainment !!........"
Sixer - Billy Craig
Phil Allen
**************************************************************
4th October 2021
Morning all,
The AGM for the forthcoming Tuesday and Wednesday Indoor Leagues was held last Tuesday. The minutes can be found using the AGM button..
Please note that we are still one team short on both nights. I'd be grateful if you could do your utmost to encourage other players (novices or experienced) to come along and join us.
I'm putting together the fixture lists and, after I've checked them once more, I hope to send them out later today.
Phil Allen
***********************************
4th October 2021
Morning all,
'Twas a dry but very chilly evening! Don't normally play outside in October; but, with starting the league later this year ... (No different to playing in April though, is it)
The White Lion "won the league" with a 10-0 home victory over their nearest rivals, Tiddington Cricket Club. A couple of close legs which could have gone either way - but the experience of the home side's anchorman pulled them through! Pete Dempsey with 17 dolls and Dougie Revitt and Tyler Andrews (16 apiece) shone for the home side whilst Pete Shepherd, with 17, as he has been for most of the season, was the star for the Cricket Club. Dave Reast also hit 17 for the Blackbird but it still wasn;t enough to prevent a 7-3 defeat at home to the Shakespeare. The Launton Arms, missing a couple of their regulars this week, got the better of their village rivals, winning 6-4 at the Bull Inn. Karl Budd with 17 for the visitors and Nigel King (15) for the Bull. The Bell put in another quality performance to beat the visiting Charlton United FC 8-2. Brian Gough (with another 6), Eddie Jones and Ray Rowe all hit 14, and Dan Jobling 13 for the Bell, with Matt Hillsdon, in his first match of the season, scoring a creditable 15.
In Division Two, the Red Cow entertained the Red Lion Finmere, beating them 8-2. Roger Herbert 'transferred' to the visitors who were a player short, clanging off 16 dolls in the process - and helping his 'new team' to win the fifth (beer) leg! Credit where credit is due, that's what this season is all about - getting players out once again to take it not too seriously and to enjoy themselves. 3-1 down after the first two legs, the Fox recovered to claim the last three legs and a 7-3 over the visiting Highfield SC. Not sure if Alvin Knowles (Barley Mow) has played indoors before, but he was the star of the show on his visit to the Ex Services with 17 dolls, helping his side to a 5-5 draw. The Crown Twyford at home to the Bell B resulted in another draw.
In Division Three, the Pheasant welcomed the Divas to the top of the hill. Once again, please put your hands together for Dave Fry!
"Oh yes, it's Ladies Night
And the Feeling's Right
Oh, what a Night!!
The Diva's arrived at the Pheasant in a Pink Caddilac hoping it was going to be 'raining men' as they reached for the Stars!!
The Pheasant had different ideas though; they were hoping to perform the Full Monty tonight to keep in touch with Brill S&SC, although Capt. Dave Morris did stress that the boys should leave their hats on!!
And what a game it was. Capt. Hannah "Prosecco" Roberts swapping to Hot Chocolate on such a chilly night and there was 'no doubt about it', that it did her no favours as her throw was already hampered by the 6 layers of clothes that she had on!! A fantastic 6 on the night from Sarah from her two throws - a 4 and then a 2 in the 3rd leg were the highlights of the game, giving the Diva's their highest leg total of the season an impressive 8!! Moira deserves a mention as well as she threw very well and deserved more than the two dolls that she scored on the night.
Everybody chipped in for the Pheasant but Star Man once again was Dave Matthews with an impressive 17 - but 'it's not unusual'!!
Full Monty achieved with a 10-0 victory to the Pheasant, looks like it could be the 'Winner Takes it All' in next week's final game of the season at Brill Sports & Social Club!!! Sky Sports, I understand, are desperately trying to get the rights to show the game!!!
Into the final week now, Yes, it's very likely to be chilly but let's get out there and enjoy it once more. It's going to be another six months before you do it again!
Sixer - Brian Gough.
Phil Allen
***********************************************************
27th September 2021
Morning all,
Lee Mason (Brill S&SC A) top scored in the Division Three match at home to their near neighbours, The Pheasant, with 16 dolls - including a six in the last leg. Here's how our roving reporter Dave Fry saw it!
Oh, what a night
Late September, back in 2021
The Pheasant win again.
Those sexy things!!
From staring into the Abyss at 4-0 down, thinking it was going to be a cruel summer, it finally turned out so good for Captain Morris and his band! Lee Mason attempted to bring back the sunshine for the Club with a fantastic six but, alas, it proved in vain as they were trumped by the powers of 'FD' and 'DVD'; a 6-4 victory for the Pheasant. Greatest comeback since Lazarus, or maybe, even Neil Diamond! At the end of the night, the Pheasant were walking on sunshine! (His words, not mine!)
With Jon Vaile hitting 13 and Alan Horton 11, Brill S&SC B won by the same scoreline, away against the Plough, and keep their spot at the top of the table, with the Pheasant second. They meet each other in the final game of the season in a couple of weeks! Could be a cracker.
Barry Reynolds (Charlton United FC B) kept up his good run of form with 15 dolls - three in every leg - to help his side to a 6-4 victory at Chearsley Cricketers.
With Liam Fisher (14), Ian Cantwell (14) and Roger Herbert (12) on top form, the Red Cow had no problems in claiming all ten points away at the Fox Souldern. The Barley Mow, with Terry Hawkins hitting 14 and James Kirkland (12), did likewise at the Red Lion Finmere, claiming all ten points.
The top two in Division One both won 9-1, Tiddington CC at home to the Bull Inn A and the White Lion at home to the Bell A. The Bull turned up at the Cricket Club with just four players; but the home side, with ten, 'loaned' two of theirs to the visitors. One of them, Ray Manning, playing anchorman for the visitors, needed two to draw the first leg - which he got! And stole a point off his own team! How friendly is that! Dave Carruthers and Pip Goulding both hit 15 for the Cricket Club.
Star of the evening has to be Erik Poslusny with 20 dolls - and not even a six (5,5,2,3,5)! He certainly did his bit in helping the Shakespeare get a draw at Charlton United FC A. Dean Hudson (15) and Jeremy Launchbury (14) top scored for the Football Club.
Sixer - Lee Mason (Brill S&SC A)
Phil
*****************************************
Morning again,
The winter indoor league season is almost upon us and we're still looking for another team of five players - or individuals so that we can make up a team - for both Tuesday and Wednesday nights. If you want to enter a team - or know of any interested individuals - please let me know soonest. First come, first served.
It's played at the Ex Services Club in Bicester, hoping to start on 12th October. Eight teams of five each evening. Two pitches, side by side, enables teams to play two matches each evening. £1.00 per player per match. The two leagues (Tuesday and Wednesday) are completely independent of each other.
Terrific atmosphere. Cheap drinks.
Phil Allen
**********************************************************
20th September 2021
Morning all,
Top of Division Three, Brill S&SC B had a rather scary evening at Chearsley Cricketers. The scores were level pegging going into the last leg, when, despite a blob from anchorman Martin Bailey, the Club won it 9-8. The Pheasant recovered from last week's defeat, with an 8-2 win at Charlton United FC. This is how my roving reporter Dave Fry describes it "The Pheasant stormed back to form, thanks to Dave Morris's journey to Horspath to pick up star man, Dave Matthews who hit 16. A brilliant 6 in the last leg from newly wed Richard Read - married life obviously working wonders for him! And he didn't even get a set of sticks as a wedding present! It turned out to be all in vain as we still managed to lose the leg! Anyway, Richard now knows about 'for better, for worse'!! Certainly didn't do Dave Morris much good though - three blobs in the three legs he played. 5-1 down, away at Brill S&SC A, the Bull Inn B side recovered well to pinch the remaining four points and to end the match with a 5-5 draw.
In Division Two, Tracey Denton kept up her very impressive form since joining the Ex Services with 16 away at the Crown Twyford, including a six in the last leg. With Rick Gumbert hitting 13 and Baz Bazile 10, the Ex's returned with an 8-2 victory. With Ben Salter hitting 13, the Fox Souldern also returned from their trip with an 8-2 win at the Barley Mow - and now jump above them into second place in the table. The Red Lion returned to Finmere with the same scoreline against Bell B. Having won the first four legs at the Highfield, the Red Cow were looking for the whitewash but fell at the final hurdle - they drew the fifth and beer leg 8-8. Ian Cantwell with 14 , Roger Hertbert (13) and Liam Merchant (12).
Karl 'Sticky' Budd asked me not to mention it, so I won't! He hit 22 (the highest individual score in the league this season), including a six in the fourth leg. Well done. Despite his efforts, and 12 dolls from Kev Powney, Launton Arms still lost 7-3 at home to Charlton United FC A. Jeremy Launchbury with16, including a six, and John Hudson with 15 shone for the football club. A rather close match at Tiddington where the Cricket Club took on the Bell A. Pete Shepherd led the line again for the home side with 17 dolls in his four legs, ably assisted by Graham Bristow with 16 in five, Phil Smith and Pip Goulding with 14 apiece. Darren Moore with 15 and Brian Gough 14, including a six, did their utmost to claim a few more points. With the game level pegging at the end of the third leg (3-3), the home side set 15 in the fourth. With anchorman Goughy having just got a six, money was on him to get the three to win the fourth leg; Pressure on! Only got one and lost the leg by one! The home side set 17 in the final leg, but the visitors fell apart and were nowhere near it. 7-3 to Tiddington. The Bull Inn welcomed the Blackbird and beat them 8-2, sufficient to swap places in the table. The White Lion were closing in on a whitewash at home against the Shakespeare but, with just 14 in the 'beer' leg, they fell at the final hurdle. Dougie Revitt hit top form again with 18 - and not a six in it!
Sixers - Karl Budd, Brian Gough, Jeremy Launchbury, Tracey Denton, Richard Read
Phil Allen
*****************************************************************
12th September 2021
Morning all,
Starting proceedings this week in Division Three, the Pheasant's variable form of late continued as they lost 6-4 at home to near neighbours, Chearsley Cricketers. Stefan Kilarski top scored for the visitors with 12 dolls in his five legs. Just up the road in very wet conditions, some decent individual scores for the home side - Martin Bailey with 14, Jon Vaile 13 (in just five legs this week - including a blob!), Alan Horton and Paddy Daly wirth 10 apiece - enabled Brill S&SC B to take all ten points against Launton Arms Divas - and to regain top spot in that division. Not to be outdone, the Club's A team also achieved maximum points against Plough MG A - Phil Chanel with 14 and Lee Mason 13 with Matt Bailey replying for the Plough with 14. Charlton United FC B drew the first and last legs and won the three in the middle to get 8 points at home to Bull Inn B - Matthew Holmes hit 11 for the Club, his best score for a long while.
In Division Two, a great recovery by the Ex Services at home to Highfield SC B. After losing the first two legs they got their act together and won the last three. Tracey Denton continued her good run of form since joining the Ex's with 15 and Baz Bazile helping with 13. Norman Brock rolled back the years with 15 for the visitors with wife Karen helping out with 10, her best of the season. The Red Cow didn't get everything their own way on their travels to the Barley Mow but with both Liam Fisher and Roger Herbert hitting 15 dolls, they still left with seven points. Dave Medhurst replied with 14 for the home side, including a five to help win the final (and beer) leg for the home side. With nine dolls from Chris Hartwell in his three legs and nine also from Martin Hartwell in four, the Fox Souldern had no problem getting all ten points at home to the Bell B, with Matt Toomey also getting nine for them. Crown Twyford and Red Lion Finmere shared the points, five apiece. They were all square going into the final leg - and they drew that one too. It does look from the scoreboard as though they then went into a three sticker (as it was the beer leg, I guess) which the Crown won 7-6.
In Division One, all eyes were on the top of the table clash, White Lion against the Launton Arms. What started off weather-wise as a decent evening, soon changed and, in the fourth leg, a downpour ended the match. The White Lion won it 8-0. Dougie Revitt, for the home side, hit 14 as did Billy Atwell for the visitors. With a 9-1 win at Blackbird Croughton, Tiddington Cricket Club leapfrog into second spot in the table. Phil Smith led the rout with 17 dolls in his five legs for the visitors, with team mate Pete Shepherd continuing his terrific run of form with 16 in four. At the Bell, Darren Moore's 16 and Brian Gough's 14 were vital in their 6-4 victory over the Shakespeare. They were 6-0 up and looked to be heading for a clean sweep, but then fell apart and lost the last two. Much the same happened at the Bull Inn where the visitors, Charlton United FC A, were 6-0 up and also lost the last two. James Bateman hit 14 playing his first of the season for the Bull.
Phil Allen
************************************************************
5th September 2021
Morning all,
Tiddington Cricket Club weighed in with an 8-2 home victory over the Shakespeare - they were actually running away with it 8-0 but, as they do, and giving all nine players a game, they fell at the fence and lost the last leg. Pete Shepherd shone again - although he only played the first three legs, he still managed 13 dolls (4,4,5). Pip Goulding's finding a bit of form lately too, helping his colleagues out best he can with 18 in his five legs. Double figure scores of 11 and 12 from Tony Nichols and Martin Wanless did little to help the Shakey's cause. Charlton United FC A were down in the first two legs at home to the Blackbird, and looked like losing the third with a lowly set of 10 (their third consecutive 10 on the night), - but, even that 10 proved too much for the visitors who replied with just 7. From thereon, the 'rest is history' - the Football Club were eventual 6-4 winners. Jeremy Launchbury with 17 and John Lehane (15) top scored for the winners. It was a close call at the Launton Arms. They were locked 4-4 with the Bell A going into the final leg. The toss and choice for that final leg was vital. The Bell won and elected to set - but the 14 they put on the board wasn't quite enough. Karl Budd set the home side on their way with a 4 (another 18 for him on the night), and Kev Powney, needing one to draw and two to win, weighed in with a 5 (giving him a total of 17). Brian Gough hit 17 for the visitors. In the remaining game in that division, the White Lion got off to the worst possible start at home against the Bull Inn A. A set of 9 by the visitors should really not have been a problem for the table toppers. But it got worse! A blob from the lead off man, Pete Dempsey, didn't help - but then it got down to 'him' with loads of experience, 'him' who, as captain, should set an example, 'him' who's been appointed anchorman for this sort of situation, been there before, got the T-shirt, and only needed one to draw and two to win - and, with a blob, he failed miserably and lost his team the leg! "Him" is me, Phil Allen. But then, two legs later, I did redeem myself and popped up with a six. The White Lion won 8-2.
In Division Two there was another case of top versus bottom. The Red Cow went to the Bell B and, without 'top man' Liam Merchant, Ian Cantwell had to 'pull the strings' with 13 dolls, to secure all ten points. The Barley Mow in second place, kept up the pressure on the Red Cow (only 21 points behind!) by beating their own nearest rivals, the Highfield SC 7-3 - James Kirkland with 14 and Terry Hawkins (13) doing the damage. The Red Lion Finmere and the Ex Services drew five apiece with Andy Hughff (Red Lion) and Tracey Denton (Ex's) sharing the top doll scorer accolade with 11 dolls. The Fox Souldern, home to their old rivals, the Crown Twyford, won that one 7-3.
In Division Three, Brill S&SC B, 'away' to their club's A team, won 6-4. Jon Vaile and Alan Horton 'shone' in that one with 14 dolls each - but Jon threw in 8 legs (having been lowest scorer in 3 of the others!) and Alan threw in six! Mike Horn had a decent evening for the losers with 13 - even "bettering" teammate Lee Mason's 11. The Pheasant returned to winning ways at the Bull Inn B, claiming 8 points and taking them back to the top of the table - on dolls scored. Keith Harris with 12 for the visitors and Dave Jeacock with 9 for the Bull were the stars. Locked at 2 legs apiece, the Plough MG v Charlton United FC B was another game which was decided in the final leg, The visitors set, but their 7 wasn't enough and, fittingly, the Plough's Lewis Wilson (with a total of 14 on the night) hit the winning doll to claim the remaining two points. Chearsley Cricketers, at home against the Launton Arms Divas, won 10-0 without any problems - Adam Lazaruk hitting 17 - his best for a long while - with Daren Vythelingum helping out with 12.
Sixer - Phil Allen.
Phil Allen
********************************************************
29th August 2021
Morning all,
With a 10-0 victory at the Blackbird Croughton, hitting 89 dolls in the process, the White Lion extended their lead at the top of Division One. Phil Allen, with 20 dolls (including a six), Dougie Revitt with 17, Lee Wanless 16 and Pete Dempsey (back to some sort of decent form) with 15, did the damage. Tiddington Cricket Club used their "full quota" of nine players - giving everyone a game as is the intention this season - in their 10-0 win at Charlton United FC A. Despite only playing four legs, Pete Shepherd hit 19 (including a six, but then 'dropped' in the next leg!), Pip Goulding with 16 and Phil Smith with 15. With Kev Powney returning to the sort of form we know he's capable of, hitting 18 dolls (including a six), and Karl Budd hitting 18 also, the Launton Arms A chalked up an 8-2 win over a depleted Shakespeare side - Tony Nichols hit 15 for them. In the other remaining fixture, the Bell A welcomed their 10-0 victory over a struggling Bull Inn A - Eddie Jones with 17 and their up and coming 'newbie', Brian Gough with 16.
Although not throwing particularly well by their standards, the Red Cow still managed a 10-0 over the low scoring visiting Crown Twyford - Roger Herbert's 16 and Ian Cantwell's 13 doing the damage. The Barley Mow kept up their chase on the Red Cow with a 10-0 home win against Bell B. Despite being stuck at the bottom of the table, the Bell B, in their first season, still turn up with a full team - good to see and well done to you all. Tracey Denton, playing for the Ex Services, hit a creditable 15 dolls in their 6-4 triumph over the Fox Souldern.
The shock this week has to be the home defeat of the Pheasant Inn, Division Three table toppers, losing 7-3 to the Plough Marsh Gibbon. Toby Reynolds, playing only his second game this season, weighed in with 14 for the winners, closely followed by his teammate Matt Orlando with 13. After a bad week last week, Dave Fry also hit 13. Jon Vaile (Brill S&SC B) shone with 17 dolls in their home victory over Charlton United FC B, which now also takes the sports club up to top spot. Dick Pike replied with 14 but still wasn't able to prevent a 9-1 defeat.
Sixers - Phil Allen, Kevin Powney, Pete Shepherd.
Phil Allen
*****************************************************************
22nd August 2021
Afternoon all,
The top four teams in the Premier and Division One were tussling it out amongst each other - White Lion, playing their first home game for almost two years, were up against Charlton United FC A, whilst Launton Arms A took on the league's newcomers, Tiddington Cricket Club.
In the first match, the visitors couldn't find the target in the first leg and set just 6 (3 out of the first four players getting blobs including last week's star, John Lehane). It got closer as the evening went on but, with Dougie Revitt, Lee Wanless and Phil Allen hitting 15 apiece, the hosts, with an 8-2 victory, increased their lead at the top. Terry 'Sid' Bagnall was this week's star for the visitors with 14. With Karl Budd sitting out the first leg for Launton Arms against Tiddington, they lost that one by one doll. Although Sticky returned for the next leg, the result was exactly the same - lost it by one doll. Two nil down but, after scoring much better in the next two, they eventually got themselves level once again. The fifth and deciding leg was crucial but the visitors got the better of it 13-10. Result 6-4 to the Cricket Club. The result was exactly the same, in favour of the visitors (The Bell A) who travelled to the Blackbird Croughton with Dave Reast 15 in that one.
In Division Two, top of the table, the Red Cow, made light work of their match against the Ex Services, winning it 10-0. With Liam Merchant unavailable this week, up stepped Liam Fisher and Roger Herbert with 15 dolls apiece for the winners. Another 10-0 victory in the "battle of the Carvells"!.. Dad, Ady's, Highfield SC secured all points at son, Olly's, Bell B. Consolation though for Olly, he hit six against dad's five! Third placed Barley Mow got the best of their visit to the second placed Crown Twyford by 8-2 - losing the last leg to prevent the whitewash. Fox Souldern have struggled a bit this season so welcomed their eight points at home to the Red Lion Finmere.
In another top of the table clash, this time up on the hill in Division Three, the Pheasant extended their lead, winning 6-4 at home to Brill S&SC B, hitting 70 dolls in the process - Dave Morris with 15 and Dave Matthews 14. Just because he had a bad week, Dave Fry's not gone into hiding! He's been in touch, 'normal service resumed' apparently - it was just one of those nights! The Pheasant were sitting comfortably with a 2-0 lead but got pegged back to 2 each, and then won the last. In a fairly close game between Brill S&SC A and Chearsley Cricketers, it was pretty 'even stevens' for the first three legs, but the Cricketers then put the foot down to win it 9-1. The Bull B got their first points of the season with a 6-4 away win against the Plough MG - Nick Cherry stepping in with 12 dolls to help the visitors.
Phil Allen
**************************************************************
15th August 2021
"LOONEY GOES LOONEY"!
In his first game of the season, John 'Looney' Lehane hits a massive 21 (matching my own highest individual score of the season) to help Charlton United FC A to a 10-0 whitewash at home to the Bell - a score which takes him straight to the top of the player's averages - and there wasn't even a six in it! Well done John. He actually outdid our own 'Mr Consistency', Karl Budd, who hit another 19 (his third out of five matches) to help Launton Arms A to a 6-4 home win over Bull Inn A. The home side were "cruising it" having won the first three legs, but then the Bull Inn introduced their own masterpiece; up steps Colin Baldwin (not involved in the first two legs) and then, in his first, he hit a six. Unsurprisingly, he was then 'permitted' to play the last two legs - which they then won. Steve Payne hit 17 for the home side with Bob Watmough replying with a valuable 15. The White Lion's trip to Tiddington CC proved worthwhile, coming away with a 7-3 victory. Pete Shepherd's 18 and Phil Smith's and Pip Goulding's 14 apiece for the home side proved in vain as Lee Wanless replied with 18 for the visitors.
In Division Two, Bell B, at home, set just three in the first leg and when the Crown Twyford only managed to get two, the Bell thought they were in for all ten points! But a "slight" recovery by the visitors earned them the remaining eight points in a low scoring affair. Top of the table, the Red Cow, were also involved in a low scoring match at Finmere but still managed to secure a 6-4 win. Liam Merchant, with his third consecutive 15, came to their rescue.
In Division Three, top of the table, the Pheasant, had no problems securing all ten points at Launton Arms Divas. Dave Fry, who's been throwing well this season, hit another 13 dolls in his four legs - he was their highest scorer in the second leg with 4 dolls and was 'dropped' for the next! With the help of Daren Vythelingum's 13 dolls, Chearsley Cricketers grabbed all ten points against the visiting Plough Marsh Gibbon. Brill S&SC A won 8-2 at home to Charlton United FC B with 15 of their dolls coming from Lee Mason, including a six. That also put him top of the Division Three players' averages. Well done Lee. In the only other game in that division, second placed Brill S&SC B had no difficulty in getting all ten points at the Bull Inn B
Phil Allen
**********************************************************
9th August 2021
Morning all, from a very wet and blustery Brean Sands! On holiday or not, I have a "duty" to fulfill! Only joking really but, with a few minutes to spare, here are last week's results.
There don't appear to be any close matches in the top division, they were all "run-aways". The biggest shock was the Shakespeare 9-1 demolition of the visiting Charlton United side who were without their top scorer Tony Launchbury. The Shakey themselves, at last, produced scores that we've been expecting to see all season. Pete Litten and Tony Nichols shone with 19 dolls apiece - Pete with a six in the fourth leg. Karl Budd also hit 19 for Launton Arms A away at the Blackbird, with his second six of the season coming in the third leg. Steve Golder (relieved of harvesting duties this week) added a bit of class too with 17. Dave Carruthers (Tiddington CC) also weighed in with 19 dolls in their 10-0 victory at the Bull Inn.
With 15 dolls (including a six - oh, and a blob!) from Liam Merchant, the Red Cow won 10-0 at home to the Fox Souldern as did our new additions, the Ex Services, at home to Bell B. Others to hit 15 in that division were Alvin Knowles (Barley Mow) and Tony Hutt (Red Lion Finmere). Well done chaps.
In Division Three, the Pheasant scored just 6 and lost the first leg to Brill S&SC A - but then, suddenly hit 20 in the next and, for the remainder of the match, the overall result was never in doubt - Pheasant won 8-2 and sit comfortably at the top of the table.
The saga of 'experience' v 'youth' continues - it was a tough one to call until the fourth leg when the "youth" could only muster 1 doll but "experience" shone though with 4. Final score, 16-15 to experience! Just a bit of family banter - I'm "experience" and my grandson, Tyler Andrews, is the "youth" - nothing too serious. Good to see him playing as well as he is.
Phil Allen
*************************************************************
1st August 2021
Morning all,
Despite the real threat of a very wet evening, I think, once we got into the match itself, most of us got away without any rain.
In the clash of the top two (at the time) in the Premier and Division One, it finished all square (5 points apiece). For Launton Arms, "Mr Consistency", Karl Budd, top scored on the night with 18 dolls - including a six - whilst John Hudson for the opposition, also with a six, was close on his tail with 16.
Sandwiched between them was our "up and coming apprentice" Tyler Andrews with 17 (2,4,4,4,3) helping his team, the White Lion, to a 10-0 victory at the Shakespeare and to go top of the table. It's got to the stage now - especially after the relatively poor show I put up - that I've got to be a bit wary about my place in the team and my position as captain - Tyler could be taking over soon! Keep up the good work, you're playing well.
The shock of the evening was the 8-2 defeat of Tiddington Cricket Club - who didn't score well all night - at bottom of the table, Bell A. The second shock of that match was Dan Jobling popping up with 11 dolls - well done Dan!
Nigel King (Bull Inn A) with 15 dolls and Robbie Bryant (Blackbird Croughton) with 14 were the highlights of their match.
With Liam Merchant (15) and Roger Herbert playing his first match of the season and "showing his class" with 14 dolls, the Red Cow maintain their position at the top of Division Two with a 10-0 over the Highfield Social Club. Well done to the Ex Services for getting a side together and especially to Brian Loverock and Rick Gumbert for hitting 12 apiece in their first matches for a number of months.
As we'd expect I guess, the three Brill teams dominate in Division Three, with the Pheasant holding top spot. Either Dave Fry managed to find some form on Wednesday or the wind took control of his sticks, but he finished with a creditable 13 in their 9-1 victory over the visiting Charlton United FC B.
Keep it going ladies and gents - get out there and enjoy yourselves! The results are not really that important (except for me, worried about Tyler taking over my position!), it's a case of enjoying the freedom once more!
Incidentally, I've only received 4 replies to the email I sent out about trophies. If you haven't yet replied, would you please do so - I need to know where they all are, Thanks.
***************************************************************
26th July 2021
Morning all. Weatherwise, another terrific evening on Wednesday for aunt sally. We're getting people out and about once again, mixing as we used to - and that's the whole idea!
Wednesday's results and scores are attached. No-one running away with either division yet - but it is only the second week!
The White Hart have withdrawn from Division Two and, the good news is, we've found a replacement team - the Ex Services. So, please, amend your fixtures list, team 6 in Division Two should now read Ex Services. I'll have a chat with my committee colleagues to see how we can award points etc to the Red Lion Finmere and the Highfield SC B (the two teams who should have already played the White Hart). Otherwise, it all seems to be running smoothly enough!
Phil Allen
*******************************************************
19th July 2021
Evening all, apologies for the delay in getting the results out to you but it was a case of starting the spreadsheets from scratch.
Anyway, here are the results and league tables together with the individual/top doll scores. As has been explained before, the 'top doll' scores (albeit there's no trophy for it) are based on the average per leg (because, with only six players per leg and five legs per evening, some players will be 'dropped' to give others a game).
It's very unfortunate but the White Hart have had to withdraw, leaving at the moment, team number 6 in Division Two on the fixtures list as a 'Bye'. I'll still try my hardest to fill it with another team if I can.
Many congratulations to Darren Moore (Bell A) and Robbie Bryant (Blackbird Croughton) who both hit a six - well done chaps.
Phil Allen
******************************************************
12th July 2021
Evening all,
Sadly, not the result most of us were wishing for last night (and it's not "coming home"!), but let's not despair. We've got another big event in our sporting calendar to look forward to - back to playing some aunt sally on Wednesday!
Let me remind you how we intend to operate this season.
1. Six a side teams chosen from a playing squad of up to nine players each evening. A different team of 6 players can be nominated for each leg and each player can play from one to five of the legs. Simplistically, it means if you turn up with six players, all six will play the whole five legs that evening. If you turn up with more than six players, the captain will select six players to play the first leg, and then he/she can change the team for the next leg, utilising the players who did not throw in the first leg if they so wish. This is then allowed for each leg. It was also agreed that for those teams who may only be able to raise five players, their lowest scoring thrower can throw again to make up the sixth player.
2. The new format will also see a change to our match scoring system. Each leg will now be worth two points for the winner, zero for the loser and a drawn leg will be worth one point for each team. This is done primarily for time reasons, and eliminates any need for three or one stick legs to decide a winner. As we are now playing five legs per night instead of three, it was agreed that the fifth leg, as well as being the final leg of the match, should also be the beer leg (if a team does not "do" beer legs then that should be raised with the opposing captain before the fifth leg starts). This and the removal of the three and one stick requirement should help ensure all matches are completed by around 10pm.
3. Games start at 8.30 but if matches frequently continue past 10 o'clock, we will look at bringing the start time forward.
4. After-match food will not be expected and will be purely at the discretion of the relevant venues landlord / owner / committee.
5. Result reporting - the home captain is asked to photograph either the scoreboard or the attached scorecard (which you'll need to print off yourselves) and send it the same evening to me (the secretary!) by either WhatsApp, email, Messenger or text message.
If you've received this email but, because you're not taking part this summer, you don't want to receive any further ones |(ie the weekly results), then please let me know.
Let's get out there, meet up with aunt sally colleagues we haven't seen for ages and enjoy ourselves once again.
Phil Allen
*********************************************************************
21st June 2021
Holiday over, back to work - aunt sally work!
I've said it a few times and still stick by it. From the 17th May, we've been allowed to meet outdoors in groups of up to 30 - and, because of that, a number of pubs have been playing friendlies. In my last email I did say "If things are delayed, then we will adjust our timing to match the details as they become available – i.e. if the Government decides to delay easing restrictions by two weeks, then we push our planned start date out by two weeks and the season will be shortened by two weeks, etc." Now I'm being asked why it should be delayed. If we can play friendlies now, why can't we go ahead and start the "league" fixtures on 7th July as already published.
After consultation with pub landlords, would participating team captains (or landlords themsleves) please come back to me as soon as possible and let me know which proposal they prefer - ie start on 7th July or put it back until 21st July.
I've received notification that the Bull and Butcher B team cannot get enough players and will not be playing.
Phil Allen
*********************************************************
8th June 2021
Evening, here's hoping you're all safe and well.
We're holding a committee meeting on Thursday hoping that we can arrange some sort of aunt sally this summer - providing the government rulings will allow us to.
Here's your last chance to let me know if you and your team wish to participate. Below is a list of how I see it so far, based on responses I received to my previous emails. Please have a look through it and if the team or pub has changed it's mind, please let me know soonest. I'm expecting to get something off the ground on either 7th or 14th July. Yes, that quickly; so, please let me have any changes urgently. I'm away on holiday next week (no, not Portugal!), so I need to start planning straight away.
If there any teams without a pub to play home games at, don't panic, I'm sure we can overcome that - either find you an alternative home venue or I'll arrange for you to play away (it's only "friendlies" after all!).
There are teams who have notified me that they're not taking part but they have a few players who would like to get involved; if you let me who they are, I'll do my best to fit them in somewhere.
Incidentally, has anyone been playing friendlies or arranging practice sessions amongst themselves? I know the Shakespeare, Red Cow, White Lion, Launton Arms A and Crown A have but are there any others?
Anyway, please bombard me with your replies - soonest
AUNT SALLY TEAMS - 2021
Yes No Preference
Ashton Club ???
Barley Mow Yes
Bell A Yes
Bell B Yes
Brill S&SC A Yes
Brill S&SC B Yes Suggests league basis
Bull and Butcher A Yes
Bull and Butcher B Yes
Bull Inn A Yes
Bull Inn B Yes Any but suggested Wychwood League
Butchers Arms No
Chandos Arms Yes
Chearsley Cricketers Yes
Crown A CoO Yes Any
Crown B CoO Yes
Crown Twyford Yes
Eight Bells ???
Fountain No
Fox Souldern Yes Checking with pub if they're happy
Highfield SC A No Only got 4 players who want to play
Highfield SC B Yes
Launton Arms A Yes Any
Launton Arms B No
Launton Arms Divas Yes
Launton S&S No
Lion Wendlebury No
Muddy Duck Yes Don't have a home venue
Nut Tree ???
Pheasant Inn Yes Only have 5 or 6 players
Plough Marsh Gibbon Yes
Plough Marsh Gibbon Casuals No
Prince of Wales ??? Trevor checking with his players and pub
Red Cow Yes
Red Lion Finmere ??? Prefers competitions idea otherwise will be
short of players
Safari Garden Yes
Shakespeare Yes
Tiddington CC Yes
White Horse No
White Hart Doubtful Unlikely to get full team of 8
White Lion Yes Only 6 players
Phil Allen
AUNT SALLY WORLD CHAMPION 2018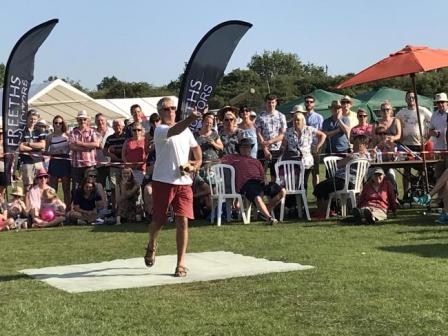 Kevin Powney.....Click the News button to read more
*****************************************

Sponsored by

DESTINATION MAZDA


AYLESBURY



*************************************************************************************************************************