26th May 2019
Morning all.
After last week's nightmare of a report, let's see if we can get it right this time! Actually, it wasn't so much the report itself, it was the "sort criteria" in the individual stats. Anyway, here goes.
Some terrific individual scores this week; the best of the bunch being Dougie Revitt's 16 (5, 6 and 5) in the White Lion's 2-1 victory over the Crown A. Some other noteable scores in that match were Pete Dempsey, Francis Hillier, Callum Cooper, Terry Bagnall and Dean Hudson - all with 10 (Dean just missing out on the elusive six with his last stick in the third leg). Bill Mellis was close on Dougie's heels with 14, including a six in the third leg when the Ex Services hit 28 at the Pheasant. Keith Lennard weighed in with a commendable 11 dolls to help the Ex's on their way to a 2-1 win. With Karl Budd and Kev Powney scoring 12 and 11, helping the Black Bull A to leg scores of 26, 23 and 20, the pub's B side were certainly outplayed by them on this occasion, losing 3-0. In a close one at the Nut Tree, the visiting Highfield team claimed all three points. The home side set 17 in the first leg but, with opposing anchorman, Lee "Speedy" Conway needing 3 to draw, 4 to win, he showed off a bit (!) with 5. He did something similar in the third, wanting 3 to win - and he got those too, finishing with 11. Well done Lee. Trevor Smith got into double figures too, with 10. Richard Cooper, for the Nut Tree, finished with a decent 11.
In Division Two, with Billy Craig in top form hitting 12 dolls, and Roger Herbert missing from the Red Cow's line up, the Bell took all three points in that one. After a relatively poor week last week (by his standards), Dave Futter returned with 11 dolls to help the White Horse to a 2-1 victory over the visiting Prince of Wales. In a close one at the Muddy Duck, the Bull Inn A won 2-1 to maintain the top spot in that table.
Division Three's leaders, the Shakespeare, were far too good for the visiting Chearsley Cricketers and with Keith Vickers hitting his best form of the season with 11 dolls, won 3-0. Chandos Arms, despite not scoring well themselves (apart from Robert "Curly" Taylor with 10), still managed a 3-0 over their near neighbours, Brill S&SC A and climb into second place.
Don't know quite what's going on at the Red Lion Finmere! They've just won their third game on the trot - all at home! Going to have to pop over there and check out the beer! This time (as they did two weeks ago in the cup), they beat the Fox Souldern 2-1.
The reformed Crown B are getting their act together in Division Five and top that table after a 3-0 victory over the Divas. The Crown even conjured up a leg of 16.
Sixers - Dougie Revitt and Bill Mellis.
Phil Allen
**************************************************************************
19th May 2019
Morning all.
Finding it rather difficult to put together this week's report; blame it on yesterday's "mystery tour pub crawl"! Twas rather a good one!
Starting in Division Five this week, the Crown B won 2-1 at last year's Division Six champions, the Bull and Butcher A - hitting 36 dolls in the process. The Black Bull Divas recorded their second win of the season - 2-1 at home against the Eight Bells - and now find themselves in equal second place, tied with the Fountain who beat Plough MG Casuals 3-0.
In the match between the Blacks Head and Safari Garden, the third leg was tied on nine apiece so then went on to three sticks, one stick and back to six again. The Blacks Head eventually won it 2-1 and recorded their first win of the season. Star of the show? It's got to be Simon Gill who hit eleven dolls (3, 3, 5). According to my records, he's never played the game before - but I said something similar last season about someone else, to find out he'd been playing in the Oxford League Premier! Watch this space!
In Division Four, the Hundred Acres, struggling to get a full side together, took on the Bull Inn B with just four players and tied the first leg on six dolls apiece - but then lost the three sticker and the other two legs to eventually go down 3-0.
Despite 13 dolls from Paul "Freddie" Sawyer, the Barley Mow still lost their Division Three match at home against a very strong Shakespeare team, by 2 legs to 1. Pete Stammers with 11 and Pete Litten (10) were the Shakey's stars. Eleven dolls from Mick Lisseter helped the Ashton Club defeat the Bull and Butcher B 2-1 and to tie them on points at the top of the table with the Shakespeare.
After last week's defeat against the Muddy Duck, the Bell gained revenge on Wednesday with a 2-1 home victory against the same opponents.
With the Black Bull A dropping a leg at the Ex Services, the White Lion's 3-0 win against the Highfield, puts them clear at the top of the Premier. John Weller (11) and Bill Mellis (10) starred for the Ex's. Kevin Vickers maintained his very good start to the season with 11 dolls for the Highfield. With Jeremy Launchbury in top form (13 dolls and now top doll scorer) and Matthew Hilsden hitting ten in his first match of the season, the Crown recorded a 3-0 victory against the Pheasant.
In previous seasons, our four a side competition has been an open competition - ie teams play against those from other divisions. It has been suggested that, if we split it into say, Premier, Divisons One and Two in one competition and then Divisions Three, Four and Five in another, we may get more entries. Would captains please discuss it with team mates and come back to me with your preference.
Phil Allen
***********************************************************
17th May 2019
The Hundred Acres team is struggling to get sufficient players each week and I have been asked, if any players are not getting a game for the team they've signed on for (possibly because there are too many in that team) and would like to play for the Hundred Acres, please let Phil Allen know.
The draws for the various cup competitions were made last night and are shown below: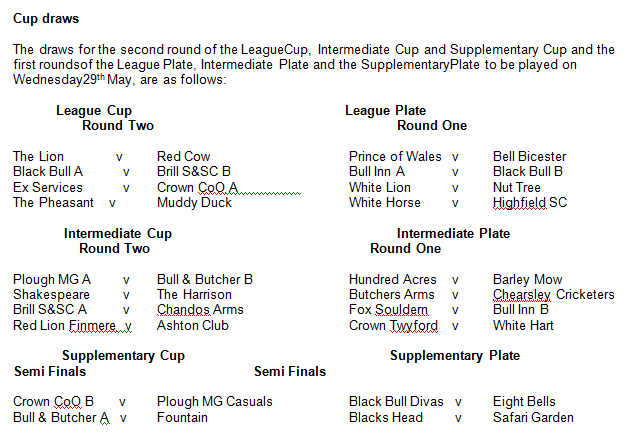 *********************************************************
12th May 2019
In the League Cup on Wednesday, the Black Bull A must take the plaudits. With a truly spirited team performance, they defeated an under-performing visiting White Lion side 2-1. The home side set 18 in the first leg but, despite a six from Francis Hillier, the cup holders fell one short. The White Lion set 22 and won the second. Down to the toss of the coin for the third and the visitors set 22 again. Not enough this time though. Well done to the Black Bull. A lengthy trip for Brill S&SC B, across to the Prince of Wales in Steeple Claydon; it was worth it though, returning home victorious after winning 2-0. The Pheasant Inn and the Ex Services did likewise at the Nut Tree and Bull Inn A respectively. Not surprisingly, Crown A didn't have any problems in their home match against Black Bull B, beating them 2-1. In a tight encounter at the Highfield, the Lion won that one 2-1. Chasing 20 in the first leg, the Highfield anchorman, Lee 'Speedy' Conway, needed six to draw; a great effort but he fell one short. In the second, the home side set 18 - far too many for the visitors' 9. What a third leg! Highfield set again - just 15 this time; but even that looked enough after the Lion's first four players had thrown. Just two on the board! The tail wagged though and the last four came up with 15 between them - anchorman Mike Leonard needed 3 to draw, 4 to win (but showed off with a 5!). The Red Cow had no problems in their match against a seven man White Horse, winning 2-0 (18-9 and 13-8).
In the Intermediate Cup, the Plough MG A beat the Bull Inn B 2-0, as did the Bull & Butcher B against Chearsley Cricketers. Likewise the Shakespeare at the Barley Mow, and for the Brill S&SC A against Crown Twyford. As the White Hart's throw is not useable at the moment, six of their players travelled to the Chandos Arms and, although pretty close (13-12 and 15-13), they were beaten 2-0. As John Mole of the Chandos wrote, "Tight run thing when you consider they only had six players, one of whom never knocked a doll off! Full marks to them for turning up". And then, as George Deans informed me "the hospitality at the Chandos was excellent and would like that to be put on record. Thank you to them". Another team who struggled to get sufficient players was the Hundred Acres. They mustered five together for their trip to the Harrison and did actually win a leg.
No great shocks in the Supplementary except to say that the Blacks Head travelled to the Fountain Steeple Claydon (as they should have done!), only to discover when they got there, they'd probably passed their opponents en route - the Fountain side had gone to Bletchingdon! No, it wasn't played by proxy! The Blacks Head returned to their home ground, and eventually, late into the night, lost 2-0.
Phil Allen
******************************************************************

5th May 2019
Morning all.
Despite the threat of rain on Wednesday, the evening remained dry and comfortably warm - well it was where I played!
The White Lion and Black Bull A both won their respective matches 3-0, whilst the Crown dropped another leg in a very tight match at the Highfield. Bobby Allen and Dougie Revitt hit 12 apiece amongst the White Lion's 71 dolls.
In Division Two Dave Futter of the White Horse hit the first six of the season in their 3-0 win over the Bell. The Lion travelled well; all the way to the Prince of Wales in Steeple Claydon and returned home with all three points. Already at a leg apiece, the Red Cow and the Muddy Duck tied the third. Went to three sticks and tied that one on five each. On to the one sticker and the Muddy Duck won it giving them a 2-1 win overall. The Bull Inn A beat Brill S&SC B 3-0 but it was rather close; the second and third legs both went to three sticks with anchorman, Carl Edgington, getting the winner with his last stick on each occasion.
The Shakespeare top Division Three after their 2-1 victory at the Bull & Butcher B, tied on points with the Ashton Club who also gained a 2-1 triumph at Brill S&SC A. A tight match at the Chandos Arms, who eventually won 3-0. First leg against the Barley Mow tied on 17 each - Paul "Freddie" Sawyer needed 5 to draw and 6 to win for the visitors; got the five. Chandos won the three sticker. Second leg 15-13. The, in the third, anchorman Sawyer found himself in exactly the same situation (5 to draw, 6 to win). This time though he fell one short and Chandos won 13-12.
The Harrison, with a few new signings, rattled off 48 dolls and won 3-0 against the Red Lion Finmere. Jim Harris, leading by example, hit 10 and Clare Reynolds, one of those newbies, got 9 - as did Trevor Wood. Then, in the beer leg, they set 24 (and that's in Division Four !), with Sophie Thomson getting a six! They did win that leg by the way!
A couple of highlights in Division Five. The Fountain, who themselves were beaten 3-0 last week, came back with revenge and beat the Bull & Butcher A by the same scoreline. And the Black Bull Divas did likewise, away at Safari Garden.
Sixer - Dave Futter.
Cup matches this week - a copy of the draw is attached in Newsletter 1. To save any misunderstanding, the semi finals of the Supplementary Cup (because there are only eight teams in that competition) will be played on 29th May.
Phil Allen
**************************************************************
28th April 2019
We're under way! Not a bad first evening weatherwise - allbeit I was indoors anyway!
No real shocks in the results.
In the Premier and Division One, the Crown A got a creditable 67 dolls but still dropped the third leg to the visiting Black Bull B (21-22). A consistent Tony Launchbury top scored for the home side with 12 (4, 4, 4) while Rob Owens came a close second with 10 (4, 2, 4). The White Lion won the first two legs convincingly indoors at the Ex Services (25-15 and 23-9) but were very lucky with the third. They only set 16 and the Ex's fell one short on 15. Similarly, Black Bull A were rather fortunate in their 3-0 win against a seven-man Nut Tree - they won the first two legs 16-15 and then the third 21-14. Kev Powney top scored with 11 and Karl Budd and Jeff Ball both on 10. Trevor Smith hit 10 for the Highfield who still lost 2-1 at home against the Pheasant, for whom Paul Wallington also got 10.
In Division Two the Bell and Brill S&SC B tied the first leg on 12 apiece with the Sports Club winning the three sticker and then the Bell won the other two legs. Despite not scoring very well, the Bull Inn A still managed a 3-0 victory over The Lion and, as the division's only 3-0 winners, they top the table.
With Erik Poslusny and Martin Wanless both cracking off 11 dolls, Tony Nichols with ten and Keith Vickers on 9, the Shakespeare won 3-0 at home against the Chandos Arms and are clear candidates to get the promotion this year that they missed out on last year. The Ashton Club and the Barley Mow were also 3-0 winners - against Chearsley Cricketers and Butchers Arms.
The Fox Souldern got themselves off to a brilliant start against The Harrison in Division Four - all three points and 48 dolls. The White Hart did something similar; they got the three points at the Plough Marsh Gibbon with 36 dolls.
Rob Webb with nine dolls and Chris Norgate-Barnes with eight got the Eight Bells off to a decent start in Division Five, winning 2-1 at home against Safari Garden. Good to see the Crown B back with us, winning 3-0 away at the Fountain and also to hear the Blacks Head really enjoyed their first evening at the Bull and Butcher, despite losing 3-0.
Right, don't forget the charity event at the Shakespeare next Sunday, 5th May - with all proceeds going to Prostate Cancer UK. Love to see you there.
Phil Allen
*****************************************************************

19th April 2019
Are you ready? Get set ! Let's go ! It all starts next Wednesday!
The draws for the League, Intermediate and Supplementary Cups were made last night and are shown below, Newsletter 1 can be found on our News page
************************************************************

8th April

Morning all,
Sadly, the Tuesday and Wednesday indoor leagues have now finished - but, do not despair, the summer league is only two and a half weeks away! Couldn't you tell during the week with all the rain and hail storms we were getting!
Anyway, the confirmed fixtures list is attached. Five divisions of eight, with no byes this year! I'm sure there are no clashes for those pubs and clubs with two or more teams, but, please give it another check and let me know if there are any.
Please bear in mind, as discussed at the AGM in January, we will not accept any postponements this year (except for really extenuating circumstances notified to, and cleared by, the secretary). If a team doesn't turn up, it will lose the points.
Some result cards have already been distributed. If you haven't got yours yet, don't panic, they'll be with you before the season starts.
For those of you who have supported our Prostate Cancer fundraising over the past few weeks - whether it be at our Bicester or Banbury charity nights, or with individual donations - let me thank you once again, you have been terrific. We have raised a massive total of £1347. Thank you.
We're not stopping there! We will be holding an Aunt Sally Charity afternoon at the Shakespeare on Sunday 5th May . It'd be great to see you there.
Phil Allen
1st April - INDOOR LEAGUE
Morning all.
Apologies for the late report this week - been very busy!
In our first Inter League match against the Yarnton League (now known as the Sam Butler Challenge Cup) on Wednesday, we went down 16-14, with the result being decided in the very last leg.
Yarnton won the 8 a side 4-2 with scores of 26-24, 23-21 and 21-24.
We then won the four a sides, the triples and the pairs - all by 4-2.
Last match of the night, and Yarnton won the singles 6-0.
Despite the result, it was a terrific night, meeting up with so many old aunt sally friends.
We finish off the indoor season this coming Wednesday with a Charity Night, raising funds for Prostate Cancer UK. Haven't a clue how many are going to turn up but we'd love to see you there.
*********************************************************
SUMMER LEAGUE 2019
Here we go then! Just 4 weeks and we're into the summer season.
At the moment we have 40 definite teams - down a couple from last year but it gives us five divisions of eight, with no byes. I am still waiting for confirmation from another two pubs whether they'll be entering or not. If they do, then we'll have four divisions of eight and Division Five will be one of ten teams.
Based on us just having the 40 teams, the first draft fixture list is attached. If we do get to the situation of making division five ten teams then the fixtures for those teams in the first four divisions will not change but division five will - and I'll issue another list. Understood? Good.
Don't forget, we have the indoor league charity night at the Ex's next Wednesday (3rd April) - can't really open it up to the whole of the summer league 'cos we won't get them all in the hall. But then, we have another 'open' charity event at the Shakespeare on Sunday 5th May.
Phil Allen
*******************************************************
22nd March 2019 - INDOOR LEAGUE
Morning all. After two brilliant finals nights, I'm now back down to earth!
Sadly, both the Tuesday and Wednesday leagues have now finished for this year. In their own ways, they've both been brilliant - and I hope we can build on that later this year when we start it all over again.
The results are as follows.
TUESDAY LEAGUE
League champions - Bill Inn A
Runners up - Red Cow
Handicap League champions - Bull Inn B
Runners up - Butchers Arms
Knockout Cup champions - Red Cow (under their new captain!)
Runners up - Bull Inn A
Triples winners - Liam Merchant, Andy Thomas, Derek Richards
Runners up - Dave Gardner, James Bateman, Karen Blainey
Pairs winners - Wayne Walker and Phil Allen
Runners up - James Bateman and Chris Stewart
Singles winner - Billy twell
Runner up - Sophie Thomson
Sixers - Nigel King, Ian Cantwell, Steve Golder, Karl Budd
Top Doll Scorer - Karl Budd
WEDNESDAY LEAGUE
DRD Roofing League champions - Crown
Runners up - Misfits
Knockout Cup winners - Ex Services
Runners up - Misfits
Knockout Plate winners - White Horse
Runners up - Black Bull
Two and a half pairs knockout cup winners - Unwanted
Runners up - Ex Services
Two and a half pairs plate winners - Black Bull
Runners up - Bell
Triples winners - Bobby Allen, Eddie Gordon, Brian Gough
Runners up - Jeremy Launchbury, Tony Launchbury, John Hudson
Bob Hook pairs winners - Karl Budd and Jeremy Launchbury
Runners up - Erik Poslusny and Martin Wanless
Singles winner - Terry Bagnall
Runner up - Brian Gough
Sixers - Billy Atwell (2), Bobby Allen (2), John Hudson (2), Brian Gough, Dave Futter, Dave Wheeler, Martin Wanless, Eddie Jones, Karl Budd, John Weller, Terry Bagnall, Phil Allen
Top Doll Scorer - Karl Budd
FOR YOUR DIARY
Wednesday 27th March - Interleague match, at home, against the Yarnton League
Wednesday 3rd April - Charity Night raising much needed funds for Prostate Cancer UK
Wednesday 24th April - Summer league starts (fixtures will be with you soon).
***********************************************************

AUNT SALLY WORLD CHAMPION 2018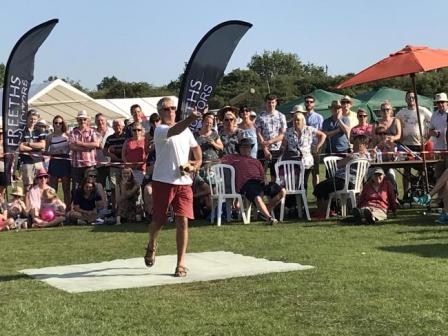 Kevin Powney.....Click the News button to read more
*****************************************

Sponsored by

DESTINATION MAZDA


AYLESBURY



*************************************************************************************************************************
17th March - Indoor League
Sadly, the season has now come to an end. Hope it's been an enjoyable one for you all!
Congratulations to the following winners and commiserations to those who didn't quite make it!
- DRD Roofing League Champions - Misfits
- Knockout Cup - Misfits
- Two-and-a-half pairs - Misfits
- Triples - Dave Reast, Keith Skinner and Phil Allen (Misfits)
- Pairs - Eddie Gordon and Billy Atwell (Misfits)
- Singles - Dave Reast (Misfits)
- Top Doll Scorer - Brian Gough (Misfits)
I know I said it at the Finals Night last night, but, once again, many thanks to Keith Lennard for ensuring everything was set up on each match day.
Phil
****************************************