8th December - INDOOR
Morning all.
Although they didn't score up to their usual standard, the Red Cow still managed to win all their legs on Tuesday and, with the Bull Inn A dropping a leg, the gap between those two at the top has widened to four points. Still a long way to go yet! Nigel King hit eleven - including a six -in his first match but then found the change of pitch for the second didn't suit him so well - he got seven.
The Crown had a shocker on Wednesday! With all of them way below par, they only managed one point all evening - in their last leg against the Bell. To rub the salt in, they lost their first match 6-0, against their biggest rivals, the Misfits. Mind you, the Misfits did throw well - Dougie Revitt with 13, Bobby Allen and Billy Atwell with 12 apiece and an overall team total of 51 dolls. The Unwanted took advantage of the Crown's downfall and, with an evening's points tally of ten, they now leapfrog into second place. Tyler Andrews was the Unwanted's star of the night with 11 in the first match and then eight in the second. Glad he's in my team! The Bell had a terrific night too. All six points against the Shakespeare in the first match and then played very well against the Crown, winning 5-1. Ray Rowe and Darren Lodge both got 13 in that second match - with Ray hitting a magical six in the second leg. Another to hit a maximum was Erik Poslusny, but the Shakey still lost 6-0 in that match against the Misfits.
Sixers - Tuesday League - Nigel King (Bull Inn A
Wednesday League - Ray Rowe (Bell) and Erik Poslusny (Shakespeare).
Phil Allen
********************************************************

1st December - INDOOR
Morning all.
A couple of great evenings of pairs' aunt sally this week. On Tuesday, those who really shone and got themselves through to the final were Clare and Wayne Walker. In the prelims they were drawn against, and beat, team mates Cindy Reynolds and Marina Atwell. Next on the list were John and Terry Smith. I believe it was in this match that Clare and Wayne, when setting, both hit 5. A terrific set. They got through that match and did likewise against Brian Loverock and Rick Gumbert. The other pair to win their way through to the final were - probably peoples favourites - Ian Cantwell and Roger Herbert. Well done to all of them.
On Wednesday, with another great turnout of 24 pairs, those who eventually got through were Erik Poslusny and Tony Nichols from the Shakespeare and Steve Golder and Phil Allen from the Unwanted.
I would like to thank all who bought raffle tickets for the Katharine House Hospice fundraising day to be held on Sunday 8th December at the Shakespeare. Between the two evenings we raised a terrific £145.00. Thank you all once again.
Last year in our Tuesday night triples competition, to ensure that teams were relatively equal, and we didn't have the situation whereby a few teams were way better than some of the others, the secretary made up the teams by averages – ie once he knew who was taking part, he divided them into three "sections" (top, middle and lower). He then sorted them into teams of three – one from the top, one from the middle and one from the lower – each team then finished up with a very similar total average and was, more or less, equal. It worked very well and we will continue to do this in the Tuesday league this year. The plan is to implement this on Wednesdays as well. Please consider it and we can then discuss it when we meet again.
Phil Allen
*******************************************************
24th November - INDOOR
Morning all.
The Bull Inn A and the Red Cow both warmed up nicely in their first matches on Tuesday, ready for their head-to-head clash later in the evening. Both won 6-0 convincingly, scoring 46 dolls each. Dave Gardner with 13 (including a six) and James Bateman with 12, starred for the Bull against Mr&Mrs Fits whilst Ian Cantwell (12), Steve Golder and Roger Herbert (11 apiece) and Nick Cherry (10) did likewise for the Red Cow against the Butchers Arms. Karl Budd hit his third Tuesday night six of the season. The clash later between the top two didn't really live up to the high scoring match we were expecting. Steve Golder got himself into double figures again with 10 to help the Red Cow to a 4-2 victory and to open up a two point gap at the top of the table over the Bull Inn A.
With the Crown having a below par night on Wednesday, losing 5-1 to an improving Unwanted and then dropping a leg to the White Horse, the Misfits, with a draw against the Ex Services and then a 6-0 victory over the Ashton Club, have leapgrogged to the top.
Pete Dempsey's 26 dolls (15 and 11) and Kevin Powney's 22 (10 and 12) helped the Unwanted to eleven points and a terrific 99 dolls in their two matches.
Erik Poslusny with 10 and 8 and Andy Grose with 7 and 11 did their utmost to help the Shakespeare to a 5-1 victory over the White Horse but were then on the receiving end of a 6-0 thumping against the Unwanted.
Sixers - Tuesday - Karl Budd (Mr&Mrs Fits) and Dave Gardner (Bull Inn A)
- Wednesday - Pete Dempsey (Unwanted)
Phil Allen
********************************************************************

17th November - INDOOR
Afternoon all.
Feeling a bit under the weather and not too well today - so apologies in advance if this becomes a little incomprehensible! Anyway, let's give it a try.
The star on Tuesday evening has to be Karl 'Sticky' Budd. With 16 in his first match (including a six obviously) - way over the top against a four-man Barley Mow team - and then, in his second match, when he could really have done with a few more against the Red Cow, he was a little below par by his standards with eight. Mind you, who's going to argue with 24 dolls in one night! Well done mate! Team colleague Cindy Reynolds had a much better evening too. Finding it difficult to get used to the environment, Cindy had just nine dolls in her previous seven matches but produced some much better form on Tuesday with 12 in two games. Well done Cindy, keep it up. Elsewhere, Nigel King, with 19 dolls on the night, is doing his utmost to keep up with Sticky but still finds himself 15 dolls behind! You remember Ian Cantwell was top scorer last week with 21? A little different this week! He's asked me not to mention that he only got four dolls in each of his two games on Tuesday - so I won't, OK! Rick Gumbert has been struggling a bit lately but came back with a creditable 18.
I'm sure this is not going to go down too well! I have to apologise to my own Wednesday team (the Unwanted). In the tables for the 30th October, I initially gave them a win too many (ie two points). Sorry chaps, that's now been changed and we're a little further behind the top two than we originally thought!
In the opening match of Wednesday evening, the aforementioned Unwanted did well to pinch two legs off a below par Misfits - but Dougie Revitt spoiled the party hitting a terrific five in the second leg to win the leg by one and lessen the blow. Norman Brock and Kevin Powney both had a much improved night with 20 dolls apiece for the Unwanted. The Crown kept up their challenge on the Misfits, winning 6-0 in their matches against the Shakespeare and the Ashton Club - as did a much improved Ex Services side against the same opponents. Terry Hawkins hit a six in his second match, as did Jeremy Launchbury, who then followed it with the "inevitable" blob.
Tuesday Sixer - Karl Budd (Mr&Mrs Fits)
Wednesday Sixers - Terry Hawkins (Ex Services) and Jeremy Launchbury (Crown).
Phil Allen
*************************************************************

10th November - INDOOR
Morning all.
Although the star (scoring-wise) on Tuesday was Ian Cantwell with 21 dolls, I still feel the "real" stars are those who seldom win, don't score many, but still return the following week making them enjoyable evenings for the rest of us. Well done.
As they did last year, the Red Cow and Bull Inn A battle it out at the top, but with the Red Cow drawing a leg and losing one, the Bull have drawn level on points. The Butchers Arms got themselves back into winning ways, with ten points on the night, whilst the Barley Mow dropped a couple of places with just two points.
Oh yeah, a reminder while I think about it. If you're the driver and your wife leaves before you - going home with someone else - just make sure you get your car keys from her before she goes! Otherwise it could be a long night!
The standard on a Wednesday night is certainly improving; for comparison purposes, I've included the league tables from this time last year and you can see, the dolls scored and the averages are quite evident.
Three sixes on Wednesday (John Weller, Kevin Powney and Eddie Jones), and with John hitting 24, that's his best form for a long while. Dougie Revitt's throwing well at the moment - wherever he plays - and also hit 24; he now tops the individual scores by nine dolls, with an average of 11.14 per match. Well done Dougie.
Bobby Allen with 22 and a few other individual totals of 20 for the evening shows how the competition is improving. Keep it going!
Sixers - John Weller (Ex Services), Kevin Powney (Unwanted), Eddie Jones (Ex Services).
Phil Allen
*************************************************************

3rd November
Morning all,
Let's get this out the way before the rugby comes on!
A relatively good night for the Mr&Mrs Fits on Tuesday. They won 6-0 in their league match against Bull Inn C, scoring 34 dolls in the process. Karl Budd and Billy Atwell scored 11 and 10 respectively but the highlight of the evening has to be the ten dolls by Clare Walker (4, 2,4). Well done Clare. Even in the cup match they pushed the Bull Inn A to the wire before just losing out 2-1. Newcomer Dave Behan showed he's going to be an asset for the Bull Inn A with 10 in their league match and then nine in the cup.
"Double figure" scorers on Wednesday were Dave Futter (White Horse) and Dougie Revitt (Misfits) with 12 apiece, closely followed by John Hudson (Crown) and Pete Dempsey (Unwanted) with 11 each. Dougie and Karl Budd both hit sixes in their cup matches - wrong time to get them chaps!
Phil Allen
*************************************************************
29th Oct 2019 - INDOOR
Afternoon all.
Not scoring many dolls but still winning legs, and the new boys, the Barley Mow, top the Tuesday night table. With "new signing" Terry Hawkins hitting 19 dolls, they won five of their six legs. With Steve Golder in top form, claiming 23 dolls (13 and 10), the Red Cow drew their first leg and then won the next five, elevating them into second place. The first week's table toppers, Butchers Arms, came back down to earth - losing every leg, quite heavily too.
On Wednesdays, it's quite apparent that the standard is rising. For comparison purposes, on the "tables" spreadsheet I've included last season's at the same stage. It can be seen that all teams apart from the Ashton Club are scoring more dolls. Long may it continue!
Darren Lodge has continued his great run of form - 20 dolls last week and 21 this time around. He's keeping the pressure on Karl Budd and Dougie Revitt at the top of the individuals' chart. Baz Bazile just missed out on a six last week but made up for it on Wednesday helping the White Horse to take a leg off the Crown. Well done Baz. With the Misfits only dropping one point (a draw against the Ex Services) and the Crown dropping three against the Unwanted, the two have swapped places at the top of the table. A long way to go yet! Another to get a six on Wednesday was Pete Litten for the Shakespeare against the White Horse. Well done.
Bobby Allen (Misfits) and Karl Budd (Crown) top scored this week with 22 dolls apiece. Well done chaps.
Wednesday League Sixers - Baz Bazile (White Horse) and Pete Litten (Shakespeare)

Phil Allen
************************************************************

Morning all,
As much as I enjoy the summer season, it's good to get the indoor aunt sally up and running again.
The Butchers Arms went home celebrating on Tuesday - they top the table! Maximum points against a three-man Bull Inn B followed by another six points against the Ex Services - and a decent 27 dolls on each occasion. Well done chaps. The Barley Mow almost matched them but lost their last leg of the evening - by just one doll - against the newly formed Mr & Mrs Fits. Individually, Nigel King is at the top - where he spent much of last season. OK, in his first match he didn't do so well with just five dolls, but then, having limbered up, he hit back with a creditable 13.
On Wednesday, The Bell were on fire in their first match against the Unwanted. With Aimee Sheehan and Darren Lodge hitting ten apiece, they totalled 45 dolls and took three points. And then they dropped five points against the White Horse. The reigning champions, the Crown, dropped a leg against a very promising Shakespeare team, as did the Misfits against the Unwanted.

Phil Allen
AUNT SALLY WORLD CHAMPION 2018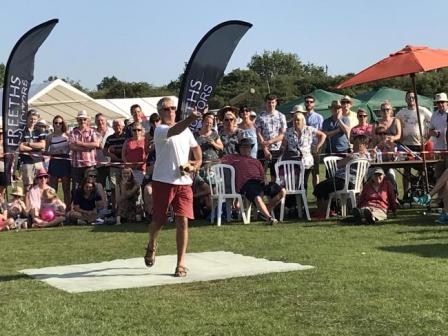 Kevin Powney.....Click the News button to read more
*****************************************

Sponsored by

DESTINATION MAZDA


AYLESBURY



*************************************************************************************************************************